Rubber Ute Matting
Author: G7 Date Posted:14 June 2017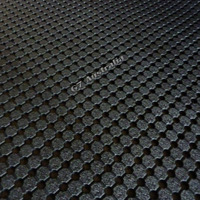 G7 Australia have recently added rubber ute matting to their range of products.
Along with their high quality aluminium ute toolboxes and aluminium ute canopies, rubber ute matting offers great protection for your ute tray.
The rubber matting can also be used as a non-slip flooring inside your ute canopy and tool box. This will of course reduce the chance of your tools and camping gear sliding around and becoming damaged.
The hard wearing ute matting offer a number of benefits and features including:
Helping prevent your load from sliding around.
The honeycomb design allows air circulation helping to reduce the chance of oxidisation of metal surfaces.
The anti-slip lags on the underside prevents the mats from moving around.
Ideal for utes, trucks, vans, trailers and any wet and dry areas. It can also be used to line the floor of toolboxes and canopies.
Available in two pre-cut sizes or in longer lengths by the metre - up to 10m.
2000L x 1830W (10mm Thick)
2500L x 1830W (10mm Thick)
G7 Australia is a Brisbane based company specialising in aluminium tool boxes, ute canopies and accessories for your toolbox and canopy.
G7 can arrange freight for your purchase Australia wide.
In addition to these quality products, G7 Australia offer a range of ute drawers, including under tray trundle drawers (also known as roller drawers) and tray top drawers.
Under ute trundle drawers make use of the normally wasted space underneath a ute tray. They fit neatly underneath the tray and roll out offering easy access to your tools and other equipment.
Tray top drawers also provide easy access to tools and equipment but are located on top of the ute tray and in some instances under a toolbox.
Both drawer types are enhanced by adding the rubber ute matting to the inside of the drawers to prevent items from sliding around and becoming damaged.
The full range of rubber ute matting and other products can be viewed at www.g7australia.com.au.
---
Leave a comment