Aluminium Ute Canopies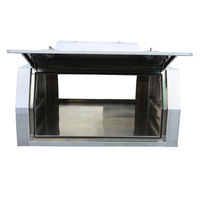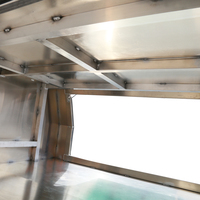 G7 Australia supply a range of high quality aluminium ute canopies at competitive prices. Our aluminium ute canopies come in a range of standard lengths which include: dual cab canopy (1800mm), extra cab canopy (2100mm) and single cab canopy (2400mm). Our most popular width is 1800mm but we also offer a narrow option at 1770mm wide to suit narrow trays. All canopies come standard at a height of 860mm with the option to increase to 1000mm. All our canopies come in high quality marine grade (5052) 2.5mm aluminium. Finish options include checker plate, flat plate and powder coated flat plate.
Our canopies are built strong and come standard with the following features: full-length piano hinges, weather seals, high quality 'whale tail' locks comprising a 3-point locking system and box section frame including floor, ceiling and end wall.
The 3-point locking system offers increased security and easy access for the owner with only one external lock on each door. These locks also provide extra padlocking capabilities.
Our canopies include, as a standard feature, a structural sub-frame base with aluminium sheeting welded to the sub-frame to create a strong, level internal floor. In addition to being much stronger than a simple aluminium sheet floor, our design significantly reduces any distortion or bowing that is common amongst two piece welded floors. Therefore there is no need to build a new, level floor into the canopy.
G7 canopies include an internal roof and end wall frame constructed of 50x50mm aluminium box section for greater rigidity and overall strength.
Our canopies can also be supplied as a 'Lift Off' style canopy. Provision is made in the side of the canopy to receive the wind up legs which are supplied with this type of ute canopy.
Ladder racks are available as an optional extra.
Check out our website for further details and pricing. Freight options are also available.
www.g7australia.com.au
---
Leave a comment